The Esko Eskomos defeated the Carlton Bulldogs 3 games to 1 in a tight Polar League rivalry match in Carlton, September 27, 2012. Match scores for Esko 25-22, 25-21, 21-25 and 25-22. The largest score difference of the match came in game 3, where Carlton came from down 4-11, 5-12 and 7-14 to take the match. Bulldog Hannah Benson served out game three down 17-21 to to 25-21 favor of Carlton, to grab the match momentum after Esko won the first two games. Carlton trailed 1-5 in the fourth game, before rallying, and taking the game lead after tying it at 12's. An Esko timeout, with Carlton up 19-16 in the fourth game changed the game momentum, as the Eskomos made a run to a 21-20 lead themselves. The Bulldogs managed to grab the next two points, to 22-21, but Esko served out the next four points for the game and match victory.
Esko's Courtney Johnston was credited with 35 set-assists, with Amanda Belden finishing on 23 of those and Christaia Houser killing 13. Nikki Mitchell was credited with 6 blocks and Kallyn Knutson getting 20 digs.
Carlton's Macy Belich and Clarissa Nelson scored 7 kills each, while Belich had 14 digs and Nelson 13. Grace Macor put up 5 blocks in the match.
Grace Macor puts up a block on Esko's Amanda Belden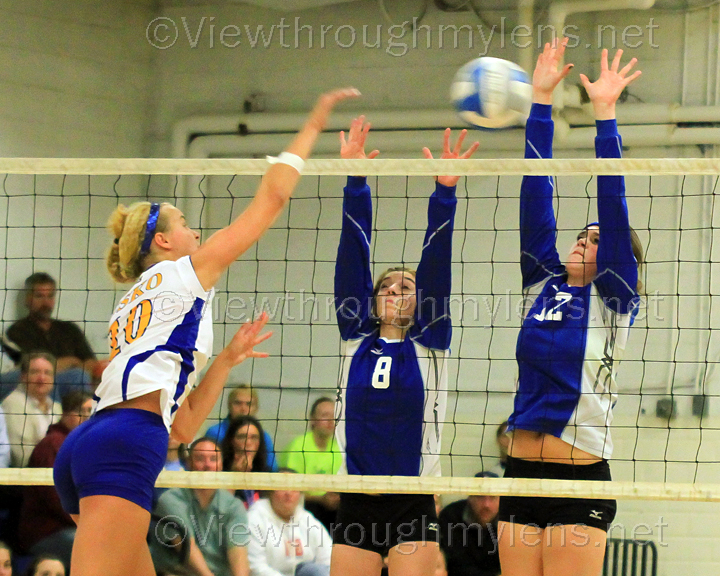 Christaia Houser gets a stuff block for an Esko point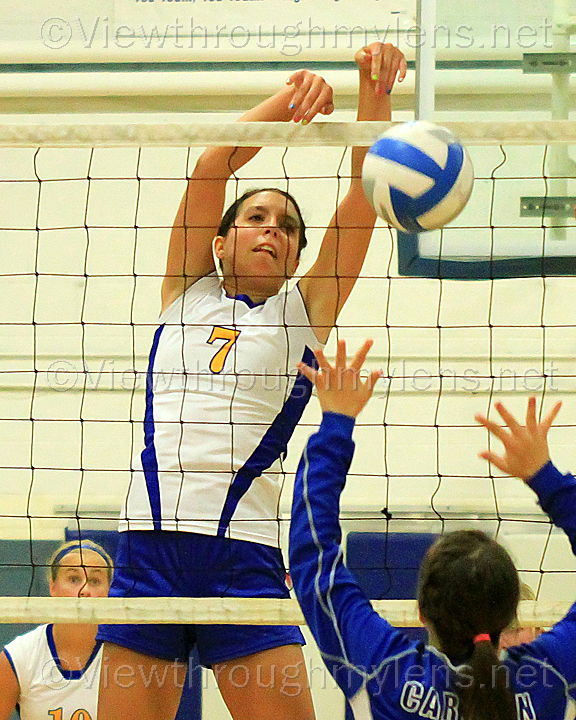 Carlton students erupt after a point